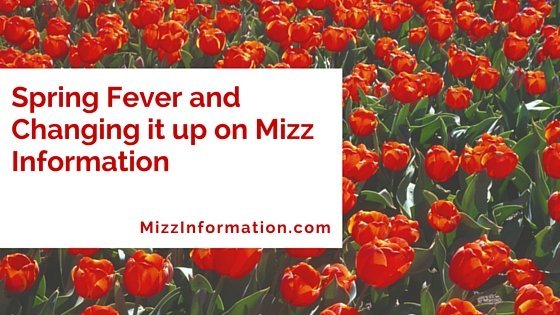 Even I can hardly complain about this past winter because, aside from the 25″ of snow that one time, it wasn't too bad, even by a winter-hater's standards. Regardless, I'm glad it's over and the world is filled with cherry blossoms and other signs of spring. This year has brought a lot of changes for me, professionally, and challenged me to learn and grow, which has been great but exhausting. Where for so long, my job was all about one thing at a time: social media, web, writing, now those things are still a piece of what I do but I'm also managing editor of a magazine and in charge of marketing, so for the first time in a long time I have to think about stuff like paper and design and copyediting and deadlines. And I have to learn about stuff I've never had to know about in the past: ad sales, page signatures, fire protection engineering, email design….and the list goes on. It's fun and exhausting and, as you can no doubt tell if you subscribe to Mizz Information, doesn't leave much time for blogging.
As I strive to learn about things that are either entirely new to me or just things I haven't had to do in a long, long time, my first instinct is to want to blog about the things I'm learning so others can hopefully benefit from my obsessive tendencies. But then it occurred to me–why not finally get over my fear/stubbornness about allowing guest posts and have people who know about certain things way more than I do write here? That way I can learn, you can learn and we might finally move beyond my hatred of LinkedIn…at least for a while.
So in that spirit, you'll soon be able to read more than my ramblings about how LinkedIn sucks. I've lined up some experts on email marketing, podcasting, video editing and other stuff I, and presumably other association people, need to know and they'll be chiming in here soon. Is there something you'd like to read about? Or would you like to share your expertise here on Mizz Information? Chime in via the comments or contact me.
In the meantime, I'll be speaking at these events in April and May–hopefully I'll see some of you there?