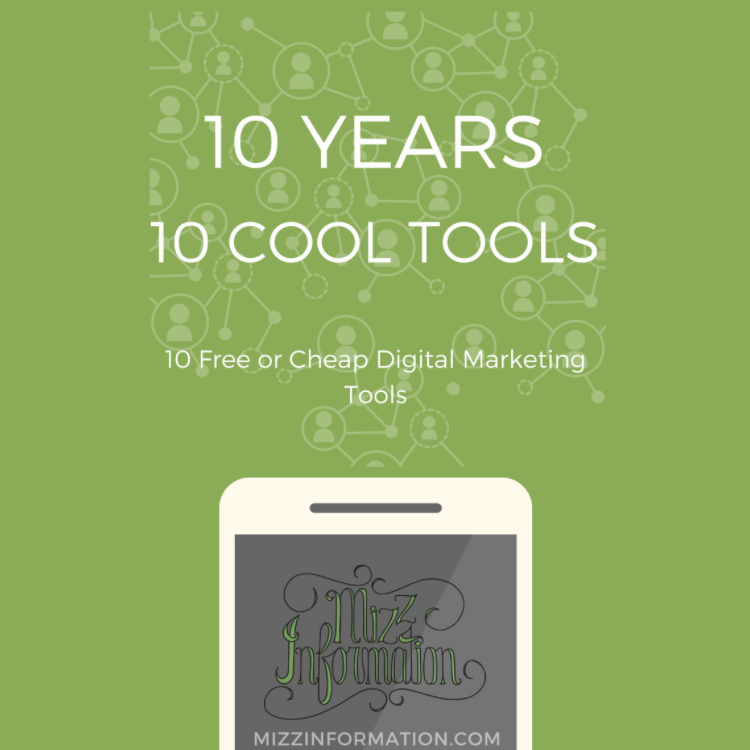 Well, I somehow managed to miss this blog's 10 year anniversary on February 24. Not that anyone actually cares about this other than me, but still…10 years is a LONG TIME for a commitment-phobe like me : ) Looking back at my first post I have to say that I've never really stopped to think about how far I've come since then and how much of that is directly attributable to this blog. While I've never had huge numbers of page views, subscribers or comments and never made a dime in terms of advertising, sponsored posts, etc., I owe pretty much my entire career to this blog. It's gotten me jobs, freelance gigs, speaking opportunities and I've also made some great connections with people who don't like to comment publicly but reach out to me privately.
Also, I have to say that this anniversary is timely in that I've spent a LOT of these 10 years writing about Facebook…mostly critical of it in large part because of its long-running track record of privacy "oops" stunts. Like the time they conducted research on users without their knowledge or consent…or the time they secretly uploaded users' contacts into Facebook without their knowledge or consent…or the time they made private messages public…or the time they changed all users' email addresses to @facebook and pushed those addresses to their phone contacts. Over the years, these posts have given me the reputation of being "excessively negative"  and too harsh on benevolent Facebook. So sorry to revel in the "I told you so" of the current #DeleteFacebook movement after the world suddenly realized that, um, I wasn't actually being negative, I was being accurate in depicting Facebook as exploitative of users.
I digress…but I have to admit I find it both satisfying and frustrating that the world is only just now waking up to what has been blatantly obvious for a decade now: Facebook exists to pilfer users' data and the result is what we're seeing playing out in the headlines now.
Anyway….sorry for that mini self-congratulatory rant…thanks for bearing with me through that and, if you've been a long-time reader, 10 years of Mizz Information. It's been a while since I wrote this post about free tools for small staff associations so I figured I'd find 10 new cool free/cheap tools to share with you for bearing with me and my rants for a decade. I originally intended to create an ebook but it was on target to take me about another ten years to finish and make look halfway decent, so blog post it is. I did make a cover, though, that looked pretty decent, if I do say so myself (graphic design is NOT my skill, sadly).
10 Free or Cheap Digital Marketing Tools
Free email builder: BEE. I haven't tried this yet but it looks cool…and bees are my jam, so bonus points for the name/branding. According to their website, BEE stands for "Best Email Editor." I only played around with it for a few minutes so I can't attest to whether it is "the best" but I can say it is pretty cool and easy to use. The blog templates, in particular, are really nice and would be great for newsletters.
Free, easy video creation: Rocketium. If you need to create quick, sharable videos easily and for free, Rocketium is pretty cool. The free version lets you create videos with copyright-free images and music clips and customize captions, animations and more…with the caveat that you can't get rid of the Rocketium logo, which isn't great. There is currently an AppSumo deal which gives you lifetime access to the professional plan for $49.
Free online graphic design tools: Snappa and Stencil. Canva is still my go-to easy graphic design tool, but you have to supply your own images. Two new tools that allow you to easily create web graphics like social media images and banners, blog title images and even display ads are Snappa and Stencil. Both require no graphic design skills and include royalty-free images, templates and icons.
Free stock photos: No budget for stock photos? No problem–here are 21 free stock photo sites.
Great daily deals on digital marketing tools: AppSumo. I forget how I discovered AppSumo last year, but all I can say is that it is one email subscription that is totally worth the space in your inbox each day. I've gotten some amazing deals on platforms that would otherwise have been WAY out of my/my org's budget range. Even if you don't end up wanting to buy the deal, it's a great way to discover cool new platforms and tools.
All-in-one web analytics & feedback: Hotjar. In their own words, Hotjar is a new and easy way to truly understand your web and mobile site visitors. It offers heatmaps to help you visualize user flow, visitor recordings to show what your visitors see, form analysis and a bunch of other features that go well beyond what Google Analytics offers. I haven't had a chance to try it yet but the basic plan is free and it looks cool, so definitely worth a try IMO.
Video editing/screenshare: Screenflow. Another one that I have bookmarked but not tried is Screenflow, but for less than $149 it looks like a pretty cool video editing tool that allows you to share screencasts, record demos on Apple mobile devices, create animated GIFs, edit video and more. There's a nonprofit discount too that gives you 10% off (I haven't verified but looks legit).
Free alternative to Facebook or LinkedIn Groups: Mighty Networks. It wouldn't be an anniversary post if I didn't somehow tie it back to my favorite obsession: private online community platforms. Right? So now that Facebook is about to go bankrupt and the world doesn't trust it anymore, you might finally be thinking about launching your own private community instead of relying on public social media sites. There are plenty of good, paid options but in terms of free/cheap alternatives, the best one I'm aware of is Mighty Networks. It is easy to set up, has an amazing mobile interface and is pretty intuitive for both users and creators. It also offers additional paid options in case you try the free version then decide you want some more robust features.
Find the next coolest tools: Product Hunt. Product Hunt is "a curation of the best new products, every day. Discover the latest mobile apps, websites, and technology products that everyone's talking about." I recently discovered it and have already found really amazing existing free platforms/apps, as well as awesome beta concepts I can't wait to try. I guarantee that you'll find cool stuff there every day, like the one I just found today, Notion.
Transform blog posts into videos: Lumen 5. How cool would it be if you could turn articles or blog posts into videos, or just to easily create animated videos to share on your social media channels? Say hello to Lumen 5, my favorite of these tools. I am NOT a video person (although I work for an awesome company that does that!) and I was able to create this video from a blog post in a few minutes.
Ok, with that, I'll let you get on with the next 10 years of your life…unless you have other tools/resources you'd like to share in the (now almost always totally blank) comments.
Here's to another decade of Facebook rants! (Actually, weirdly, this whole Cambridge Analytica/public flogging of Facebook has weirdly cleansed my soul of contempt for it so I'm pretty sure I'm moving on. Or at least that's how I'm feeling today…fingers crossed, right?)